Handcrafted Flower Essences
A custom blend created just for you. Available in North Vancouver or by distance via zoom.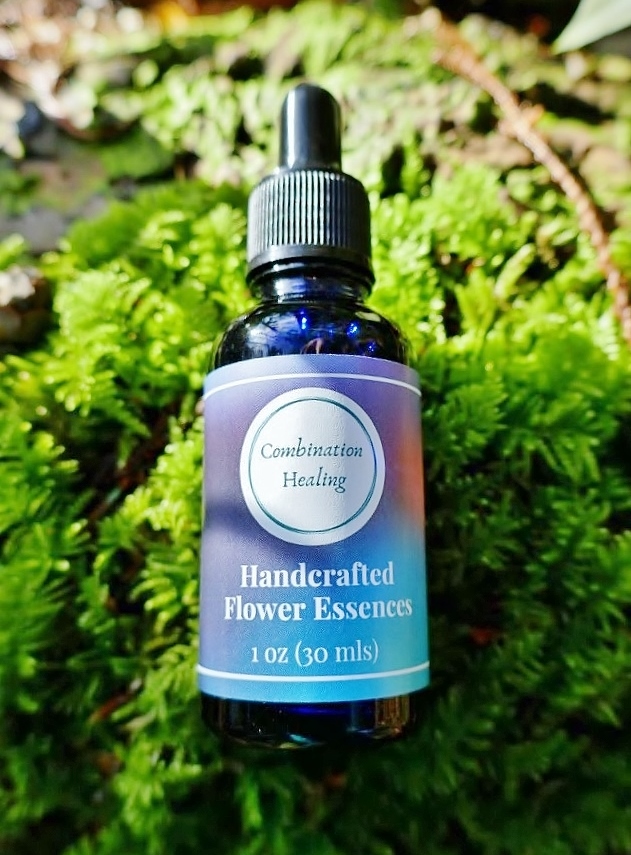 Have you ever been drawn to a flower?
And you didn't really know why.
But you just really loved to look at it?
Sometimes it is because there is something within this flower that is incredibly helpful and healing.



What are Flower Essences?
Flower Essences contain the imprinted energy of a flower or plant within water. Each plant has certain properties to support your physical and emotional healing along with your soul growth, and these are contained within the water after it has been solarized by the sun or lightly boiled.
They are also known as Flower Remedies, and many people have taken the Bach Rescue Remedy in a stressful moment…though they may not have known there is a whole forest of plants out there to help!
My favourite definition is that they are soul helpers from the Plant Spirit World.
I make Flower Essences out of plants in and around Greater Vancouver to get in touch with the potency of our local medicine. The final dosage bottle is made up of this Flower Essence, spring water, and a small amount of brandy. I also use Bach Flower Remedies and Flower Essences Services in my blends.
I prepare Handcrafted Flower Essences in a 1 ounce dropper bottle, which also has spring water and a small amount of brandy as a preservative.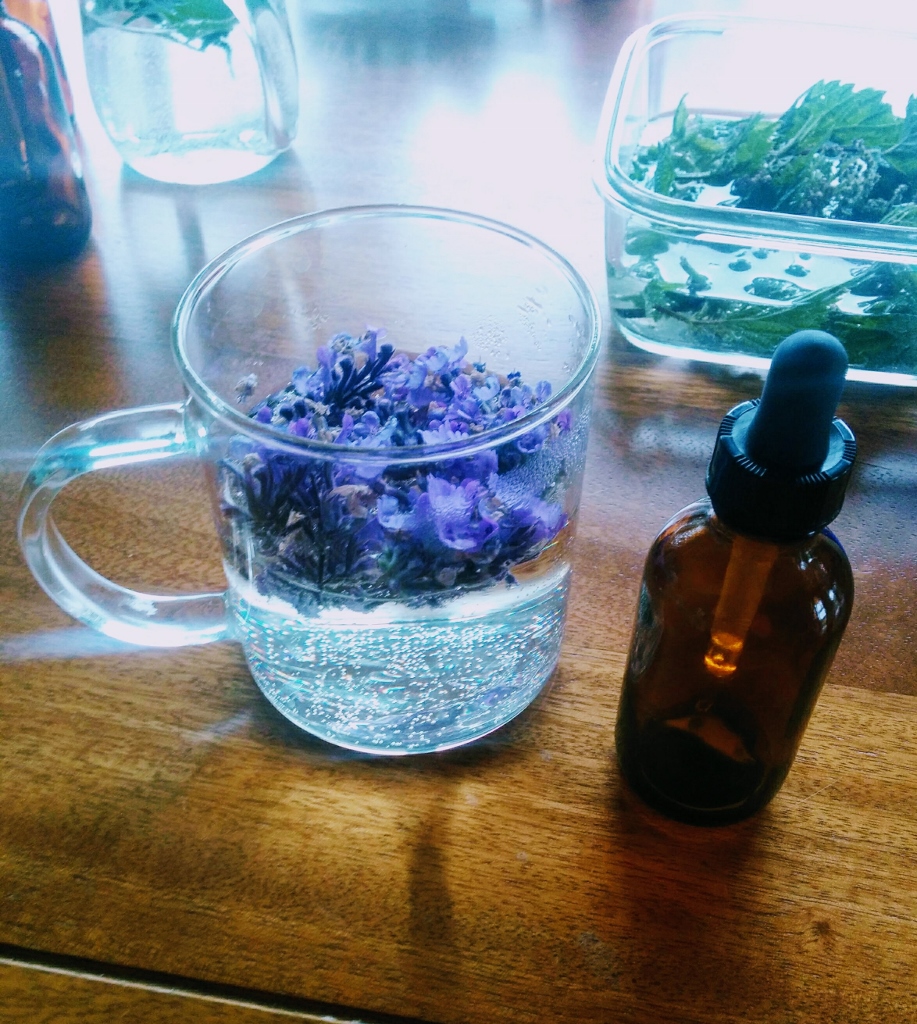 How do Flower Essences help?
Flower Essences work on the energetic level of an issue and help to advance our conscious awareness of ourselves.
They are a form of vibrational medicine, similar and yet different to homeopathic medicines. (Homeopathics are often made from toxic materials and diluted down. Whereas Flower Essences are made from plants at the peak of their expression and it is more the inherent wisdom from that plant coming through to help).
Many take Flower Essences for their own personal and spiritual growth. They help when life is a bit out of balance, and they can gently uncover our own true core…they help us discover our true self.
They can help one to move through the energetic imprints from trauma, circling thoughts, anxiety, low self-confidence, lack of groundedness, poor concentration, and the list goes on…
Flower Essences foster self-reflection. In order to select remedies, we have to pause and reflect on how we are feeling. We get a chance to notice and be curious about our more challenging states, instead of pushing them away. And we reflect on how the Flower Essence is shifting how we feel.


Are They Similar to Essential Oils?
Flower Essences or Flower Remedies are actually the opposite of Essential Oils. Essential oils contain a high concentration of the original plant material, whereas Flower Essences contain almost no plant material and instead use the potency and wisdom of that plant that is captured as an "energetic signature" in the spring water used to make them. Flower Essences also have no floral scent, which surprises many people!
If you find you are particularly sensitive to essential oils, medications, or supplements, Flower Essences may be a great option for you as they have a different mode of action. They work energetically and vibrationally instead of biochemically.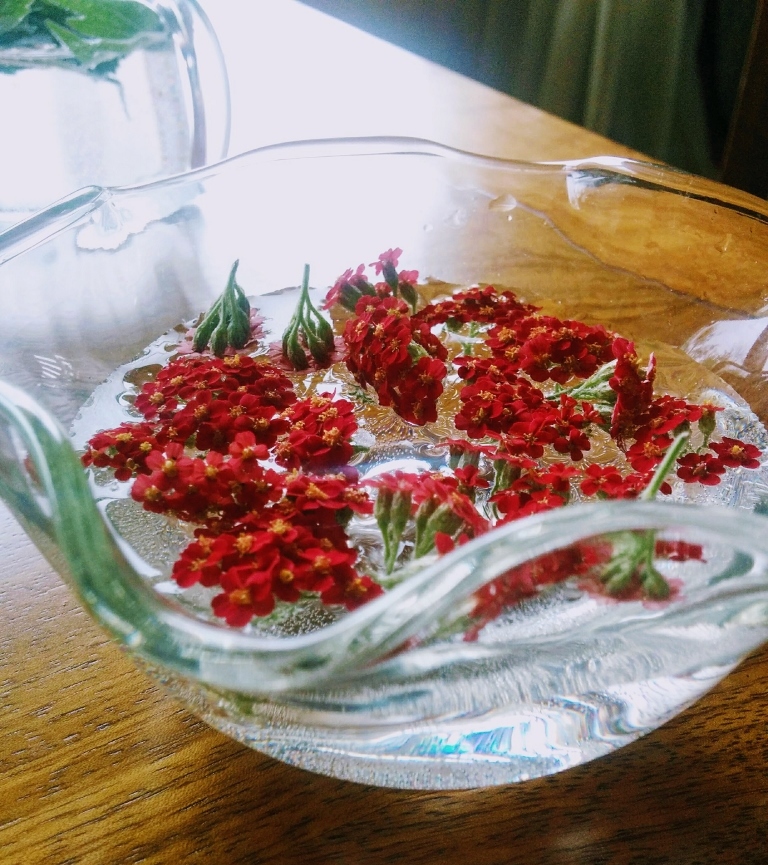 How Do I Take My Handcrafted Flower Essences?
Each person may end up taking their Flower Essences differently, though a typical way to take them is 4 drops in a small amount of water, 4 times a day.
Others find they take 1 drop once a day and that is enough for them. Or I prepare a mister bottle and they simply spray their Flower Essences around their body.
You can also rub a few drops on an area of your body you are looking for healing with, such as a sore joint, instead of taking them internally. You can add them to your bath, place them on your chakras or acupoints, or simply to an area you are intuitively drawn to applying them.
Sometimes you notice an immediate change, though often it takes a few days to weeks for the change to take place. Some Flower Essences will have a subtle effect on you, whereas others will be much more directly noticeable.
They are incredibly safe and complementary to other therapies, though check with your medical provider if you have any specific questions.


Rates
$15 per Handcrafted Flower Essence bottle if you have had a Craniosacral Therapy session recently. This allows me to use the information from our last consultation to know what Flower Essences to use in your custom blend.
Or
$60 for a 30 minute consultation and this includes a custom blend of Handcrafted Flower Essences (plus shipping if applicable).
Flower Essences also are included in The Healing Journey Package. You can learn more about this right here.
I look forward to bringing the wisdom from this gentle yet powerful form of Plant Medicine into your life.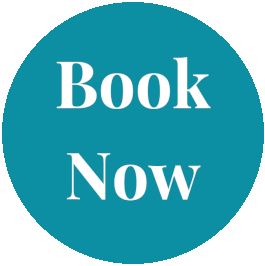 I'm available for you Monday to Friday through clinic and home visit sessions or via Zoom for distance Flower Essence consultations. You're welcome to get in touch with me if you don't see a time that suits you.


Flower Essences Library
My apothecary has over 75 Flower Essences, so check back often as I upload more here!
Combination Healing Flower Essences
Handcrafted by Lisa Matthews in North Vancouver and the surrounding area.
Cedar (Cedrus) For grounding and protection which brings a feeling of emotional stability. Taking Cedar Essence can help you feel like you're coming up for air if you've been stuck in a whirlwind of chaotic feelings.
Dandelion (Taraxacum) Helps one to connect to their own sense of personal power and inner authority. Form this place, it becomes easier to make decisions and find creative solutions. Also helps you to continue walking your path, even when you don't know exactly what the next steps are, by using your energy in a paced or measured way…instead of trying to do everything at once. See the full blog post on Dandelion Flower Essence right here
Himalayan Blackberry Blossom (Rubus armeniacus) Brings in a lovely, happy, bubbly energy that lifts the heart and supports energy flow through the pelvic organs. An essence to "lift one's spirits" and on a deeper level to restore the sacred pleasure of the feminine. This essence allows one to relax and to be pampered, and to look after oneself with ease and simplicity. Helps one to connect with enjoying pleasure and joy of all kinds, for the sake of pleasure alone. Himalayn Blackberry Blossom can be particularly helpful for women unable or unwilling to have pleasure in their lives. It is a welcome balance to the thorns of life.
Lavendar (Lavendula angustifolia) A soothing remedy to help you feel more like yourself again as it returns the Self to the physical body. Helps to turn down the volume of the inner critic while giving you a sense of renewal. Helpful for long projects when you are feeling defeated or like you'll never finish, Lavendar helps to gently motivate and to put problems into perspective. Helpful for the perfectionist who obsesses over minor details while bringing its lovely calming energy to your nervouus system.
Heliotrope (Heliotropium arborescens) Under research
Nettle (Urtica dioica) A transformative essence, Nettle fortifies while bringing in vitality. It begins moving stagnant energy when one is on a Healing Journey and/or going through a tumultuous time in life. Helpful in establishing a "backbone" to connect to your inner confidence and strength. Helpful for quiet, overly "nice" individuals looking to stand up for themselves.
Red Clover (Trifolium pratense ) A nervous system reset. Helpful after a long illness or period of stress. Red Closer assists in restoring your foundational energy system.
Self-Heal (Prunella vulgaris) To mobilize the healing forces available within you. When there are many layers of ourselves (mind, body, spirit, especially multiple accidents and traumas) requiring healing, from concussions and head injuries to a more emotional nature. A good heal-all and excellent introductory essence if you are new to Flower Essences.
Healingherbs Essences®
Using the traditional flowers and methods of Dr. Edward Bach, Julian Barnard has created a beautiful line of the classic Bach Flower Remedies in England.
Agrimony: For those who hide their worries and mental suffering behind a smile. Often avoiding conflict and saying "Oh that's ok, it was no big deal!" Tendency to numb and minimize feelings through addictions, drug, alcohol, or others.
Aspen: For vague, unknown fears, or a sense of foreboding without a specific cause.
Beech: For overly critical feelings about other people.
Centaury: For the inability to say no to other people.
Cerato: For helping you tune into and trust your own inner voice, instead of asking everyone else for advice.
Cherry Plum: For fear you're going to lose control or have a nervous breakdown and do something you'll later regret.
Chestnut Bud: When you seem to repeat your mistakes and can't seem to catch the lesson.
Chicory: For when you are showing behaviors that masquerade as love, but are more possessive, over-bearing, or manipulative. Often this is done unconsciously.
Clematis: For feeling spacey and like you daydream often. A distracted state when one is floating around the mental or imaginal plane.
Crab Apple: For feelings of being unclean and unhappy with your appearance (think pimples, or body image issues). Also helpful for being very picky, perfectionist, and obsessed with minor details.
Elm: When you feel like you have too much responsibilty, too much resting on your shoulders. May come after graduation or taking on a new role, when one feels like they are having a "crisis of responsibility."
Five Flower Formula For times of stress, crisis, and overwhelm. After an accident or when you are running late to a job interview, Five Flower Formula can help calm your nerves and bring a greater sense of ease within you. The Five Flowers are Clematis, Star of Bethlehem, Rock Rose, Impatiens, and Cherry Plum. (Known as Bach Rescue Remedy by a different company.)
Gentian: For feeling discouraged after a set-back, and when a sense of doubt makes you question your ability to try again.
Gorse: For feeling like it is utterly hopeless to try again (to apply for another job, to see another practitioner, to date another person) and for when you've given up.
Heather: For talking so much about your problems to others that you actually begin to feel lonely, when there is an obsession of your challenges in life and that you must always share this withothers (this extra talking is oftendone unconsciously)
Holly: For jealousy, envy, or anger towards another person. When you expect someone to treat you badly and thus feel suspicious of that person's motivations.
Honeysuckle: For living in the past and always thinking about how good life was back then…and that the good ol' days have gone by.
Hornbeam: For when you struggle to begin a task or start work…that sense of procrastination pervades and a feeling of tiredness at even starting whatever it is. Though once you do get going you find you gain energy and are able to keep going without much trouble.
Impatiens: When you are either always rushing, always trying to get to the next thing. Or for when you are frustrated with the "slowness" of others and often take over the job just to get it done.
Larch: For a "lack of confidence, expectation of failure, self-censorship, unable to find one's voice or speak one's convictions." -Kaminski & Katz, Flower Essences Repertory, 2015
Mimulus: For a specific, known, often everday fear such as a fear of heights, dogs, or other regular occurence.
Mustard: For when you feel down in the dumps and you don't know why, depression without a "cause" that you can identify. Often comes on suddenly and without relation to your current life events.
Oak: For the person who soldiers on and works far too long, past their physical limits, yet with a feeling of responsibility that they must carry on.
Olive: When you are exhausted, particularly after stress, overworking, or illness.
Pine: For feeling guilty about seemingly every little thing in life. Even if it's not your fault, you're likely to take the blame willingly. You are most critical with yourself.
Red Chestnut: When you worry too much for your family or close friends. Whether that be overly concerned about their health (my uncle really shouldn't be mowing the grass with his heart") or their general emotions ("I hope my daughter feels ok at her first sleepover")
Rock Rose: For extreme feelings of terror or panic, particularly when you feel like you're feeling "out of your body."
Rock Water: For deep rigidity and inflexibility. You don't tell others the way things should be done, you just ensure you lead by example and do things to your exacting measures. Prone to harsh routines or schedules.
Scleranthus: For when you are indecisive. First one choice seems like the right one, then moments later you change your mind to the other option. At times a paralyzing feeling when you're unable to choose even something simple, such as which brand of milk to buy.
Star of Bethlehem: When you feel a shock, such as receiving horrible news, or trauma that has happened recently or in the past.
Sweet Chestnut: A deep state of despair, akin to a "dark night of the soul."
Vervain: For when you feel so entirely devoted to a cause that you overspend your energy on it, tending to try and convert others to your campaign or belief.
Vine: When you tend to control a situation and force people to follow your directions or complete a task in the way you deem appropriate.
Walnut: For when you need protection and are overly prone to influences from others on your thoughts. Also for times of change such as moving house or changing careers.
Water Violet: For when you feel lonely, but don't want to associate with people, particularly if you (consciously or unconsciously) deem them as being "lower" than you.
White Chestnut: For circling, repetitive thoughts and worries that drain your energy and agitate your mind.
Wild Oat: When you know you are here to do something worthwhile and have a deep sense of purpose to do…something. Wild Oat helps you connect to the work you are made for in this lifetime.
Wild Rose: For when you are unable to see the beauty in life and are just living in a world of gray. You feel apathetic and are just trudging on with the duties of daily life. Also for when you have had a long-term illness that hasn't cleared and the pain caused by this causes you to push all of the troubling thoughts away, so you can simply get through another day.
Willow: For a state of self-pity, particularly when you feel others are to blame for your situation.
Just a note that these statements have not been evaluated by Health Canada or the FDA.